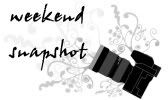 Soo good to be back on my favorite meme. Today i will share you the world's largest performing water feature, the Dubai Fountain. We got the chance to see its beauty last weekend when we visited the 30-acre Burj Dubai Lake. The fountain is composed of two arcs and five circles. It performs to the tune of Arabic and classical western music.


In full sprout, there is 83,000 litres of water in the air. The fountain is more than 275 meters in length - equivalent of two football pitches. Dubai Fountain performs daily from 6 in the evening 'till midnight.
Thank you so much for the visit, fellow weekenders. I will be bloghopping in awhile. I am excited to see all your entries as well. Take care and have a blessed Sunday!