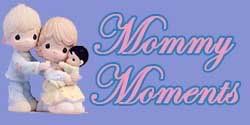 Perhaps nothing is messier than a toddler trying to feed himself. The biscuit crumbs, vegetable chunks, tomato sauce splattered, fruit juice dripping, we Mommies have seen it all. Messy yet heartwarming to see them trying to do it on their own.

Andreas is 10 month old here trying to devour his beans and squash.


Muffin crumbs on the floor are a real pain on my back. Just when you are trying to pick them up, he decides to stand up and steps on most of the crumbs. Now you have to mop the tiles.