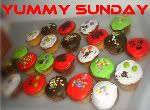 Time for some foodie meme again!
I share with you today my recipe for snack-time muffins. My son loves it! This is perfect for your toddlers as well because it is not very sweet. I always lessen the amount of sugar or chocolate for all my baked goodies so it will be more friendly to my son's teeth. Also to prevent his preference for sugary snacks or sweets.

Banana Chocolate Muffins

(Makes 12)


I served this to my lil' Andreas and he consumed it all :)

Ingredients
2 extra ripe bananas
2 eggs
3/4 cup brown sugar
1/2 cup margarine
1 tsp vanila
2-1/4 cups all purpose flour
2 tsps baking powder
1/2 tsp ground cinnamon
1/2 tsp salt
1/2 cup chocolate chips
Here's how:
1. Pre-heat oven to 150 degrees. Grease a 12-case muffin pan.
2/ Puree bananas in blender. In a medium bowl, beat pureed bananas, eggs, sugar, butter and vanilla until well blended.
3. In a large bowl, combine flour, baking powder, cinnamon and salt. Stir in chocolate chips. Pour banana mixture to the dry ingredients.
4. Mix until just blended. Scoop about two table spoon for each muffin case.
5. Bake for 25-30 minutes or until springy to touch.
Happy Cooking!