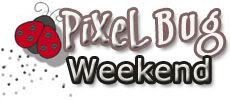 Here are some live models making the Halloween extra special for kiddies.
I guess they went overboard with Goldilocks hihi


The Golden Chef

All the live models were allowed to meet & greet for the kids. But this ghostly English man was the only one Andreas liked to shook hands with.

Until next
Pixel Bug Weekend
!