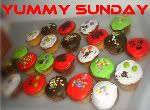 We spent our Saturday morning coffee at the charming Shakespeare & Co. Restaurant Cafe.
Hubby ordered his favorite cuppa, the Turkish coffee. Know though that it is a method of preparation, not a kind of coffee. Beans for Turkish coffee are ground or pounded to the finest possible powder, finer than for any other way of preparation. Other ingredients include cardamon, cold water, and sugar if desired.

I had Strawberry Vanilla Ice cream served just the way i like it. Creamy with not a hint of sugar.


And this is my tribute to all the Edward Cullen fans. New Moon opened in UAE this week. The beautiful and dangerous Robert Pattinson graces the cover of almost every magazine. Yummy!!!!
Thank you so much for the visit! I would love to see all your delish entries :)