I finished cooking salmon head for dinner and berrychoco muffin for dessert so I am smiling here with my free time. I got thirty minutes more before Andreas wakes up so i decide to write and clear my head.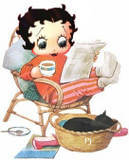 Last week, we received complimentary papers from The National. Hubby was very happy about it and thinks our new home is such a great place(*_*). I told him they just want us to lure into subscription. Maybe It will only be for a week or so.
"How much is the subscription?"
"Maybe 350 or more. I'm not sure."
After five days of luxury, hubby came home and said "The National subscription is AED300. I heard it on the radio. Maybe we should try it. After all, they have some great freebies. It will not be such a loss on our part."
Subscription entitles you to to some great gifts including trip to Wild Wadi, Ski Dubai Private lessons, concert tickets, and restaurant vouchers among others. All gifts range from 400AED-700AED.
I argued my choice is Gulf News. We want to know the real news, the real stories. The National is funded by Abu Dhabi government. There is certain bias on their reporting (I remember reading an article from the magazine Campaign where the Editor-in-Chief was interviewed and he admitted he was not sure if The National will survive in its own. Or if they will ever reach the five year target of publishing from advertisers' money).
Case in point, the first victim of swine here in the UAE. It was the banner story on Gulf News that day but it appeared on the second page of The National. Maybe they did not want the public and the tourist to panic but the people have the right to know what is going on. It is their responsibility to inform and make the readers be aware and take precautions against the virus.
Yesterday morning, the complimentary copies ceased to arrive on our doorstep. Frankly, i missed it with my morning coffee. I checked on Gulf News website and the subscription costs 500AED. Aargh. So much for the truth.
Thank goodness to Ghazal Shopping complex where we can get our free newspapers from their friendly coffee shop staffs.