A sunny Tuesday everyone! Thank you to hubby because he makes sure i still get to have "me" time. These are the things I enjoy doing most when i get some time alone.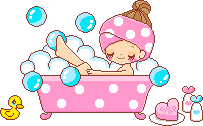 1. A long, fragrant bubble bath. (I am liking vanilla sugar these days)
2. Cuddle with a good book.
3. Bake desserts.
4. Try out a new recipe
5. Visit a flea market or a floral shop.
6. Go shopping!
7. Watch fashion network and home shopping.
8. Do girlie stuff (home facial, mix n' match clothes)
9. Blog and surf the net
10. Take a long walk.
Join us for Ten on Tuesday
here
.