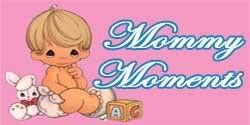 This week's theme is part of the family. My fellow pretty, devoted Mommies ("_"), meet my son's best friend Chuckles - a gosig bulldog we bought from Ikea. Yes, he may not be a living thing but Chuckles or Koko (as my son pronounces his name), is so much a part of Andreas' life. Let me show you..

We bought the stuff dog when he turned six months. At seven months, i noticed his certain fondness for it. It will always be the first thing he will pick up from his mounds of toys. Of course, he often soils it so we bought him two more bulldogs.

When around the house, he drags Chuckles with him everywhere To the kitchen counter, to the bathroom - even when we go out to the corridor for a trip to the rubbish shoot, Chuckles will be held by his left ear. As you will assume by now, he will never sleep without Chuckles.

One of the bulldog stays in the car. The sight of Chuckles comforts him on those long roadtrips when he has to sit alone at the back. When he gets scolded as well, he hugs Chuckles for comfort.

At 19 months now, nothing comes closer to his fondness for Chuckles. His bestfriend, comforter, ever-loyal and perenially available playmate.
Join the fun on Mommy Moments
here
.