Given the respect and understanding that we all have our free will to choose how we spend the Holy Week, our
coffee break
begins with this thought in mind: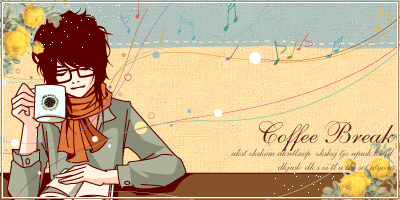 Is your Lenten Season
a time for reflection
or a time for relaxation?
For us, it is both a time for reflection and relaxation. True that we should be more reflecting and remorseful during Holy Week than in any other time of the year but because it is also a long holiday, people tend to grab this chance to have a break away from work and be with their families. Maybe there is nothing wrong with a get-away vacation but vacation goers should also spend some time alone to be with the Lord -- to thank Him and reflect on the blessing and trials they have been blessed with.
Here in the gulf, the Easter Sunday was declared a holiday last year for the Christian expatriates. I don't know if it goes the same for this year. And if ever, that one day holiday will be most welcome. It is all work, and work here. Hubb
y can use a three-day vacation hehe. After church, maybe we will check out the easter egg hunting on the shopping malls (they have been heavily advertised). This will be Andre's first Easter so we would want to make it as fun for him as possible. Then maybe we will also check out a photography and jewelry exhibit around the Bastakiya (creekside) area.
If you wish to join coffee break, visit

Jan's blog

. Thanks everyone!