Thursday is here again. I shall be busy over the weekend so i might not be able to log in. We are attending the baptism seminar tomorrow and if we can schedule the christening next Thursday, i will have to deal with the guest lists, invitations, and favors. But before i go, i leave you these...



11. Zap your bikini line in 10 minutes


A Brazilian boosts sexual satisfaction says 53 percent of testers. Hair cushions sensations in the clitoris so if you remove it, sex is more stimulating. Hmmnn...

12. Do a five-minute furniture re-jig
Your hallway is the transition point between work and home. Walk and you should see something beautiful such as a picture or paiting and you'll immediately feel h
appy at home.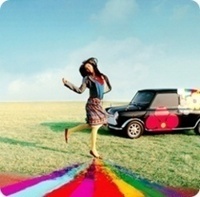 13. Go fluoro in 30 seconds
Color therepists believe neon co
lors give seriou vitality buzz, so add bright shoes, a bag, or necklace to your outfit and you'll feel energized whenever you see it.



14. Fill in your diary for two minutes


Anticipation of fun things makes you feel as good as doing them.



15. Make a five minute detour to the florist


Studies says that flowers giv
e immediate joy and make you feel happier for a whole week afterwards.

Have a good Friday everyone!!!