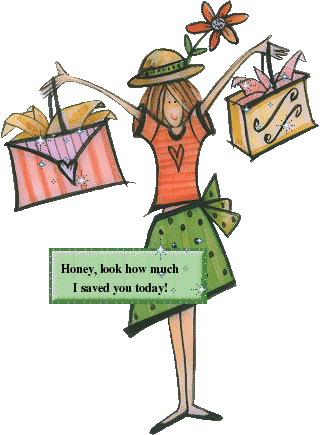 My uncanny ability to spot SALE.
It stops there what I am proud of myself financially hahahhahaaaa!
I was once told directly by an acquaintance that the reason I could not get a
boyfriend
is because I will make for a very expensive wife. To live in a small province and two years of being unattached, it send people's tongue to enumerate theories why I am excluded in the dating world.
When an ex heard that I was getting married through a civil court, he rushed to tell me that I should have told him I wanted a simple wedding. He said that had he known I don't want all these traje de boda and golden etched layers of wedding cake, he would have offered marriage early on hahahahaaaaa! Thank you but NO thank you.
Anyway, I can't blame them for accusing me of being a material girl. I love shopping and all the niceties in life that I can afford. Read A-F-F-O-R-D. I was sending my brother and sister to college and what remains of my salary goes to ukay-ukay --- clothes, shoes, and handbags. And if that is not enough, my grandmother likes to shop for me. Nothing makes her prouder when she sees me wearing the skirt she bought. She loves to spoil me and my little sister, but sissy is more picky with clothes than I do so i end up having more and more all the time =). In short, I do not owe anybody for what I was strutting.
Coming to Dubai - a city that gives you an excuse everyday to go shopping, my mantra stayed the same. Do not buy anything in its original price. Except for a car loan which will be completely paid in October 2011 (yahoo!!), we don't have any other loan and we choose not to have credit card. Takot ako mangutang. Early on, Hubby asked if we should grab their loan offer of 30K AED, because everybody in his office is availing it. I refused. What's the money for?
Thankfully, Hubby heard me. He was not yet in a managerial position when we bought our SUV. Some wondered how we could afford such brand new wheels when he is the only one working but it was all because we were granted a bigger car loan for a clean credit record.
And early in our marriage, whenever we passed by a bridal shop or when he sees me watching Fashion Network with models sashaying in wedding apparel, Hubby apologizes that I was not able to wear an ivory gown in all its glorious veil and train. Once he even suggested that we plan for our church wedding. But I simply don't see the point spending so much. What is important is we take our marriage vows seriously. I think that is the reason why he took me to
Italy
for our anniversary =)
Maybe I do make for an expensive wife. I live for the moment. But I do not ask for more than what Hubby gives to me. And when he does give me something, I make sure I spend creating an experience he would enjoy. I drag him to restaurants and hotels he himself would not enter alone. Once while we were in a posh Spanish bar, he said.
"Thank you because I get to experience this. I would not dare to enter such places alone."
Social climber na kung yun ang tawag nila but at least, I know what an authentic paella tastes like and how the inside of
Burj Al Arab
looks like hahahhaaaa!
I believe too that generosity leads to abundance. I always thank God for giving us enough that we are able to share it with other people. Oftentimes, when Hubby's friends borrow money and we would discuss how it affects our budget, I tell him to let go. We are still lucky to have food and that the three of us are together.
An entry for