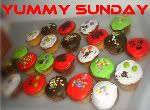 Happy Sunday visitors! This is my first entry for Yummy Sunday. Here you can share the food you, your hubby, or any family member has cooked. Yes, you may also share that delish you had at your favorite restaurant.

For today, I am sharing my first attempt on cookie making. Hubby likes 'em and in preparation for my toddler's baon three years from now ("_"), I thought i should learn to make a decent cookie. I love those that they sell on supermarkets and Mrs. Field's but sometimes they are just too sweet for my liking - and yes expensive as well.

I made about 12 huge pieces and I was thinking it will last as snacks for the whole weekend. However, we could not stop munching that they never made it to the cookie jar :)


Walnuts & Chocolate Chunk Cookies
(Makes about a dozen)

Ingredients
8 squares semi-sweet baking chocolates
1/2 cup butter, slightly softened
1/4 cup brown sugar
1 egg
1 tsp vanilla
1 cup all-purpose flour
1/2 tsp baking powder
1/4 tsp salt
3/4 cup chopped toasted walnuts
Here's how:
1. Pre-heat oven to 160 degrees. Melt 1 square of chocolate in the microwave and set aside. Cut the remaining squares into large chunks; set aside.
2. Beat butter, sugar, egg, and vanilla until light and fluffy. Stir in the melted chocolate. Mix in flour, baking powder, and salt. Fold in chocolate chunks and walnuts.
3. Drop dough by heaping 2 tbsps, about 2 inches apart onto greased cookie sheets. Bake foe 8 minutes or until lightly browned.
Happy cooking!...and till next
Yummy Sunday
!