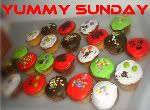 We stayed late at a weekend birthday party. It was soo much fun meeting up with friends again, gossiping and singing to the top of our lungs that we finally drove home around 4 a.m.. I woke up nearly at noon so i had to make a quick brunch since we scheduled to bring our little boy to Zabeel Park. We wanted to make the most of what's left on the weekend so we devoured steamed rice and all of these hihi.


Spam, Cabanossi (Pork Sausage), and tomato & capsicum omelet.

Thank you for the visit! I am excited to see all your yummy entries as well.
Join the fun on Yummy Sunday
here
.