I woke up today with the news that four more banks in the Us has been closed. Is the recession will ever come to a halt? Like hubby says, the world is self correcting itself. We wanted to be fair and we all wanted to be equal. What the first world countries can do, such is also the aim of third world nations. But maybe this world is never meant to be fair to everybody, financially that is.

So what is a recessionista chic to do when a trip to Harvey Nichols is no longer possible? Take care of yourself, your appearance until the economy bounce back. But just how does a SAHM cope up in between laundry and looking after your toddler? Read on for some short cuts that will have you looking fab in minutes.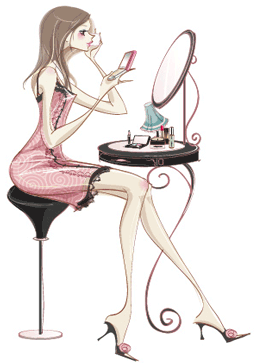 1. Smoky eyes
You don't have the time to build up layers of shadow? Simply line the rims of your upper and lower lids with black eyeliner and smudge all the way around with a cotton bud until you get that smoky-eye look.
2. Quick lip plumper
After applying lipstick, take a generous dab of clear gloss and place it in the middle of both top and bottom lips.
3. Seductive Shimmer
Make your decolletage stand out by brushing a light bronzer over your cleavage . For a more natural look, try a plaer shimmer powder.
4. Silky lips
When brushing your teeth also brush your lips to sweep off dry flakes. Next swipe ona gloss with moisture, protection, and color.
5. Instant skin radiance
Spread a shimmer cream or powder accross cheekbones, temples, eyelids and over shoulders to give skin luster.
That's all for now because my little boy wants his lunch. Till next beauty talk!