Howdy visitors! I give you another round of fast beauty fix.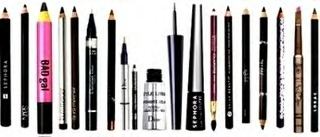 6. Lump free lashes
Before applying mascara, wipe the wand with a tissue to get rid of lumps so they don't end up on your lashes.
7. Eye shadow fixer
Before applying make-up, pat concealer over lids, brow bone and, most importantly, the corner of your eyes. This lightens the whole eye area and ensures your eye shadow stay put.
8. Organise your make-up bag
Set up an area on your dressing table to spread out your make-up tools, rather than hunting around for them in the dark abyss of your cosmetics bag. Alternatively, invest in a clear plastic make-up bag.
9. Easy eyebrows
Your eyebrows are sisters not twins - so don't spend hours trying to make them look identical or you'll run the risk of over plucking. For instant grooming, brush them with a clear brow gel.
10. Flyway free hair
After applying your body lotion or hand cream, smooth any excess over your hair to tame flyaways and control frizzy curls.
Thank you so much for the continued interest. For those who missed the first dose, check out entries with speed beauty tag. Take care and till next beauty talk!