So my culinary skills is extending to pancake haha.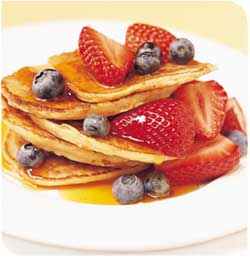 Ate Josie, one of the helpers here in the villa, was kind enough to show me how to make pancakes. After my first attempt, i decided i want my pancakes to be a little more interesting. So that on my second attempt, i folded cashew nuts and raisins. When i finished, i decided i want them fluffy to so i decided to adjust the ingredients and create my own.

Teehee. They came out beautiful, golden, and fluffy and Ate Maya (who has a great baking skills) commented i have perfected it. Yay!

So here is what i did
250 ml all purpose flour
3 tbsp oil
4 tbsp sugar
1 tsp salt
2 tsp baking powder
2 eggs
100 ml fresh milk
cashew nuts
raisins
I split the cashew nuts in halves so they will be flat when i fold them later. Then i soak the raisins in water so they will be soft.
I mixed the sugar, salt, and baking powder in a bowl using an egg beater. After making sure there are no lumps from the baking powder, i added the flour, eggs, and fresh milk. Mix them all just until the ingredients have blended very well. Do not overbeat, otherwise, you will end up with a gummy pancake.
When done, smear it with butter and maple syrup. It's the next best thing to a bubble bath.
Thanks to hubby for buying those bowls, mixer, and measuring glass. They are the envy of everybody in the kitchen hihi.