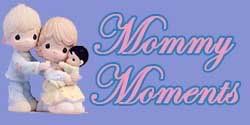 I always wanted a son. But somehow I came to be partial on Andreas' photos where he looked all girly! He was born with a thick mass of hair. It took two months for some of our neighbors to recognize he was a boy after all hihi. Ain't these a treasure?

Andreas is three months old


At four months

This was taken at five months old


One Emirati complimented how beautiful our baby is but "He has to grow up like a boy from day one," he said. Sixth months and we shaved off his hair....aaargh I wanted to cry.

See more treasured photos on
Mommy Moments
.