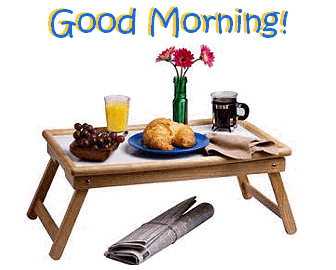 Hoooohum! I was glad to join hubby again for breakfast. Andreas is teething so he wakes up several times during the night. Either I rub him gently or feed him before he can go back to sleep. That leaves me almost sleepless so i am tired and drowsy early in the morning. Ceasar patiently prepares the breakfast but by the time he asks me to join him, i am fast asleep. It's been going on for more than a week so i told him last night i was going to join him for breakfast - no matter how sleepy i may be.

I think our own little time in the morning is very important. It's when we talk about how and where are we going to spend the day. Andreas usually joins us for dinner so morning is the only time when we can spend our meal with just the two of us.

Oh, it also happens that today is our monthsary. Thank you for the greetings, darling. I love you, I love you.