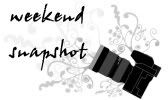 A blessed Sunday to you! Hope everyone had a safe and spectacular Halloween. Planning for my son's first birthday started over the weekend. We visited Virgin Megastore for some party favor ideas and just before reaching the store, we chanced upon these artists whose drawing skills were absolutely amazing.

Have a look and maybe you can guess also the celebrity moms he sketched.
Thanks so much for the continued visits. I am excited to se your WS entries as well. Have a fabulous week ahead!