Andreas used to adore a smiling Mickey Mouse poster on our cupboard so i wanted a Mickey themed birthday cake. I tried to look around bakeshops but all i saw was Mickey's huge face. I want something tiered. Haha, i don't know. I like cakes that are tall and elaborate. I like them screaming with celebration. When I ordered for Andre's christening celebration, i specifically told the baker i wanted a two-layer chocolate cake.

Anyway, this morning i Googled and found a whimsical 4-tiered birthday cake especially designed for little boys. But it is sooo blooody expensive i have to check it out with hubby. So after dinner, I carefully told him i found this website where we can order online. He checked them out, and he too agreed the cakes were fabulous. There were Mickey mouse themed cakes, cars, ships, Barney, Pooh, and the rest of the super heroes.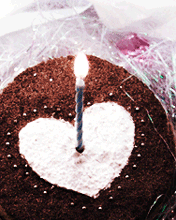 "So what theme do you have in mind? I thought you wanted Mickey Mouse."
Yeah, but i guess he is too young to appreciate it, you know.
Okay, so what does Andre really likes? This Nemo cake looks good. He likes Barney right?
Yes but we can't have Barney right now. That was Gabby's first birthday cake.
How about we give them our own design? We can ask them to make a cake like Andre's favorite bulldog?
(No reply)
BJ! He likes BJ! We can ask them to make a cake shaped like BJ.
Honey, that would be more costly don't you think? They would have to make new molds, get new cake decors, etc...
Oh really?.....so what do you have in mind?
I just want something that emphasizes it's his first birthday.
Okay, we can have a cake shape like number 1.
(No reply)
Come show me what you have chosen
(After a couple of clicks, i showed him the four-tiered birthday cake).
That is awesome. It suits the event perfectly!
Darling, it's 10 thousand pesos.
Yeah, it's just too much.
So what are the other options?
(No reply)
Okay, we will have what you chose.
(I smiled at my reflection on the mirror)
Hubby turn to Andreas, hugs him and says, "Mommy has chosen your birthday cake. I hope you won't smash it haha."